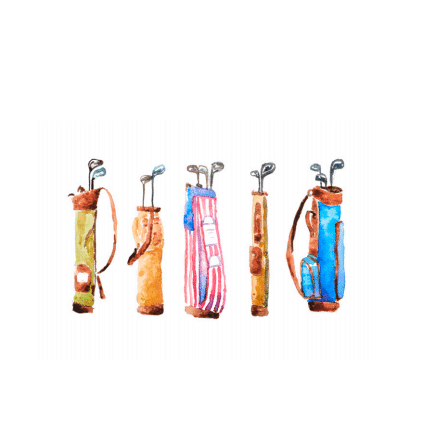 Golf Bags Enclosure Card
---
Introducing the charming and elegant vintage golf bag enclosure card, featuring an original watercolor design by artist Taylor Paladino. Measuring at 3 x 3 inches, this enclosure card is adorned with Taylor's stunning watercolor design of various sizes and colors of vintage golf bags with clubs.
The expert use of watercolor has brought this design to life, with every detail captured in vibrant and timeless colors. The vintage golf bags with clubs make this enclosure card a perfect addition to any golf lover's collection.
The enclosure card is the perfect size for adding a personal touch to a gift or including a heartfelt note. Its sturdy construction and high-quality paper ensure that it will withstand the test of time.
Whether you're a golf enthusiast or just appreciate the beauty of Taylor Paladino's watercolor art, the vintage golf bag enclosure card is a must-have. Its unique and timeless design makes it a joy to give or receive. Order yours today and add a touch of elegance to your gift-giving.
Available as a single or a box of 10!
Dimensions & More: 

3x3" paired with matching white envelopes.
---
ASK ABOUT SHIPPING TIMELINE HERE: