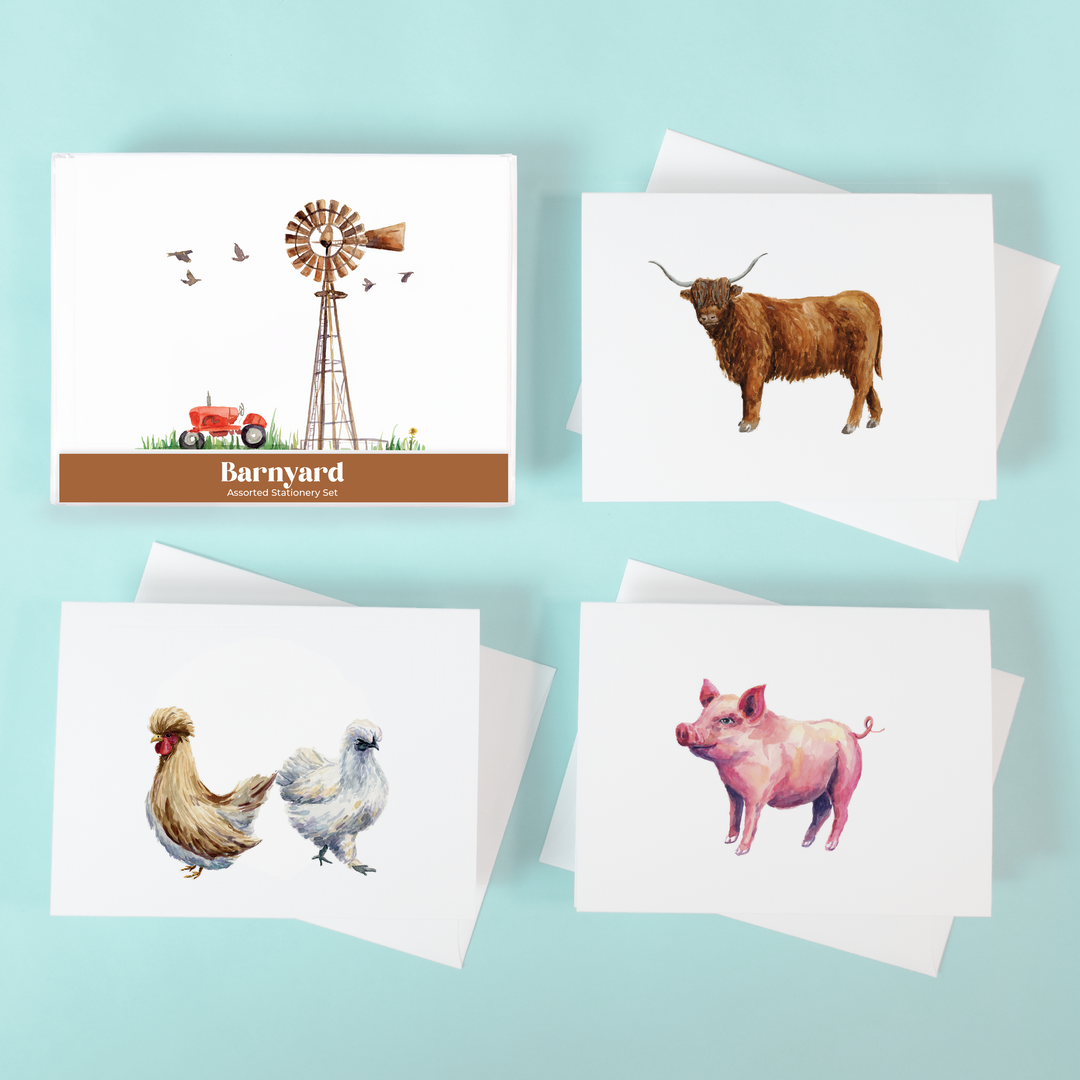 Barnyard Assorted Stationery Set
---
Introducing the A2 Assorted Stationery Set, a delightful collection of handcrafted cards featuring stunning original watercolor designs by the talented Dallas-based artist, Taylor Paladino. Each set includes eight exquisite cards, with two cards of each unique design, made from high-quality linen cardstock. Along with the cards, you'll find nine matching envelopes, making it the perfect all-in-one stationery package.
Taylor Paladino's captivating watercolor artwork brings a touch of elegance and charm to every card. With a diverse range of designs, this assortment ensures you'll have the perfect card for any occasion. Whether you're sending a heartfelt note to a loved one, expressing gratitude, or celebrating a special milestone, these cards will leave a lasting impression.
The use of linen cardstock elevates the overall aesthetic and quality of the stationery. The luxurious texture of the cardstock adds a tactile element, making each card a joy to touch and hold. The linen cardstock also provides durability, ensuring that your heartfelt messages will be cherished for years to come.
The A2 Assorted Stationery Set by Taylor Paladino is an ideal choice for those seeking unique and artistic cards that make a statement. Whether you're sending greetings, invitations, or simply want to brighten someone's day with a thoughtful note, this set offers a versatile and visually striking option. Prepare to be inspired by the exquisite watercolor artwork and share your heartfelt messages in style with this exceptional stationery set.
A2 size 4.25"x 5.5" Horizontal - 8 Cards; 9 Envelopes
---
ASK ABOUT SHIPPING TIMELINE HERE: